Power Trip tv
Teaser for our TV Show: Power Trip tv
QuadExpert at Valley Supersport
Added on June 5, 2015 – YouTube
Watch 24 Seconds into this video for Quad Expert Technician / Racer Cedric Campagna ! He proves that 6 years later at the Valley Supersport Mud Races 2015 the Brute Force 880 is still running the fastest time! Visit out Website at https://www.quadexpert.com/ or call us at 613 487-QUAD (7823) for all of your ATV MUD Runs & Drags! Our knowledgeable staff is qualified to make you go faster!
Quad Expert – Number-one dealer in motorized fun
Added on October 12, 2018 – Prescott & Russell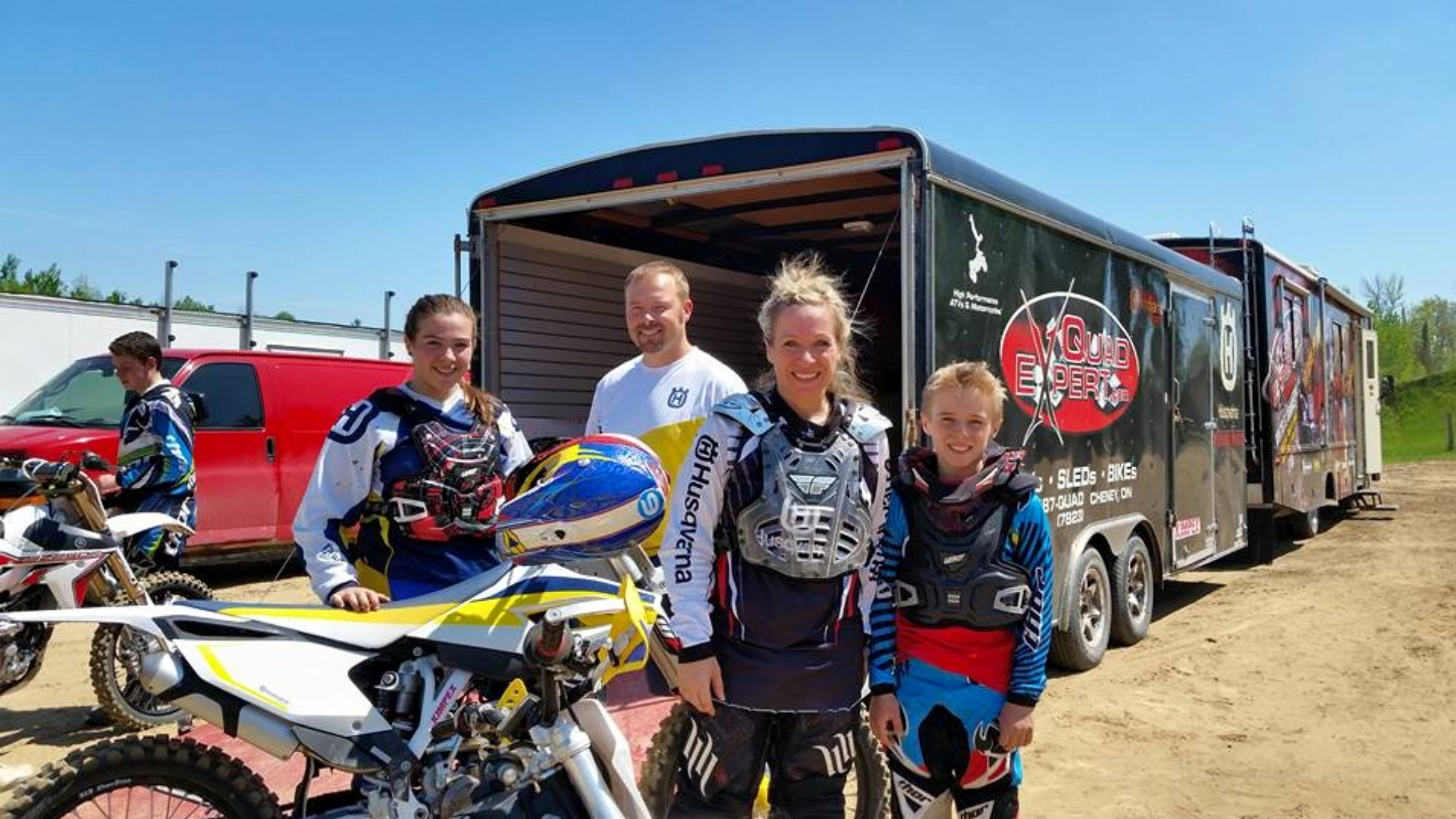 The United Counties of Prescott and Russell represent a vast outdoor playground. Those who enjoy spending time outdoors, no matter the season, will find a lot to love in the area.
Of course, one of the best ways to truly live the great Canadian outdoors is to explore its less-travelled paths.
Granted, there are many ways to do so, but for some – the only true way is through the thrill of powersports!
Quad Expert, located in Cheney, Clarence-Rockland, knows this and caters to those who see the vast expanses of the UCPR as a prime natural playground.
The family-owned business is a local superstar in the world of powersports. Indeed, anyone interested by the world of ATVs, snowmobiles, motorcycles and everything in between would do well to pay Quad Expert a visit.
"We sell fun… And have fun selling fun," said Quad Expert co-owner Roxanne Rollin.
"We're all very passionate about what we do, but our real focus is customer service. We're all very driven and our goal is to get to the top!"
Rollin's statement is not to be taken lightly. Along with her husband, Mark Schroeder, the duo has literally built what is today a very successful business from scratch.
"It started at home, with Mark and I," said Rollin.
"I was the buyer. I visited auctions, looked around and purchased damaged ATVs. Mark fixed the vehicles at home and we sold them."
With some support, the couple managed to get a nice sideline going for themselves. A few years into it, what was once a simple, opportunistic idea called Mark's Auto and Cycle Repair became much more.
"We became very busy and since we were working from home, we kind of lost our personal lives. At some point, I told myself: 'we need to move the business somewhere else. If we want this business to be worth something, we need to completely rebrand the business. We settled on a name that could be international, that represented what we did and that had an available .com," explained Rollin.
Approximately ten years ago, after a few years of working from home under the Quad Expert banner, Rollin and Schroeder came face to face with an opportunity – the property located at 457 Russell Road was for sale.
"It was an old flea market, the building was filled with government surplus stuff and everything was run-down. We started renovating the place as best we could, recycling what we found inside as much as possible. We didn't have the inventory we have today, but we put so much effort into customer service that the word spread," said Rollin.
Back then, Quad Expert had no idea that its modest, used vehicles store would soon become one of the country's best powersport dealers.
Growth and success
If one were to walk inside Quad Expert's showroom today, it would be hard to believe that everything started with the sale of used vehicles within an old flea market.
Indeed, the first impression one would have when visiting Quad Expert is quite positive. Visiting the store means walking into a bright, clean, well-stocked showroom.
Customers are greeted with brand names such as Yamaha, Husqvarna and Fox Racing (to name a few) and by one of 14 staff members that clearly look like they're having the time of their lives. In other words, Quad Expert looks and operates like a well-oiled machine.
"A while back, I knew we needed brand names in our store to become successful. I solicited Yamaha for months and after a while, a salesperson came to visit. After spending 30 minutes here, not only did he agree that we were a good prospect, he said we were five-star material. A few months later, we got our first Yamaha snowmobile," explained Rollin.
Like any respectable dealership, Quad Expert also supports and maintains the vehicles it sells, under the experienced eye of technician and co-owner Mark Schroeder.
"Mark qualified for the Yamaha Technical Grand Prix. He may not have won, but he did make the top eight Yamaha techs in Canada," said Rollin.
Quad Expert's success with Yamaha didn't stop there. In 2017, the Japanese giant awarded them five gold stars.
"That's when we realized how successful we were. Yamaha invited us to Santa Lucia with the other five-star dealerships and we quickly noticed that there were very few of them," said Rollin.
Recently, top Yamaha executives flew all the way from Japan to visit Quad Expert in order to witness their success from up close.
"They were curious to see where our success came from. They probably looked at a map and wondered how we managed to be rated number one in customer service in Canada here, in a small rural community such as ours" said Rollin.
A true local experience
Quad Expert definitely feels at home here, in the UCPR, surrounded by powersport enthusiasts.
"This is the heart of powersports. For motorcycles, our store is a popular pit stop – we can easily have hundreds stop by. We're close to Larose Forest, which hosts trails for the Bytown Motorcycle Association for off-road, the ATV club of Eastern Ontario Inc. and the Eastern Ontario Snowmobile Association," explained Rollin.
"People live for this kind of thing around here. Once they go for a ride on an ATV or snowmobile, they start seeing the world differently. We're part of a community within a community."
Quad Expert is located 457 Russell Road, Clarence-Rockland. Anyone interested in learning more should visit the website or better yet, stop by for a visit.
Powersports enthusiast or not, Quad Expert is worth a visit.